Product Description
Solar Panel Wire Mesh
The metal punched sheet mesh (perforated metal mesh) has good ventilation and randomness of the mesh size. On the one hand, it can prevent the insects and birds from entering the damage of the solar panels, and on the other hand, it can be well ventilated to maintain the good working performance of the solar panels. The shape of this mesh can be prototype or square, which is very convenient. It can be galvanized or plastic coated, depending on customer requirements. Anping Xinzheng can also produce stainless steel wire mesh, expanded metal mesh, stainless steel plain weave mesh, crimped wire mesh, steel mesh, brass wire mesh and more.
Material: Stainless steel plate, steel plate, brass plate, aluminum plate, and more
Applications for Perforated Metal Mesh: The uses of perforated metal mesh are endless. To name just a few common applications:
1. Water filtration applications
2. Building facades and decorative features
3. Functional screens and sunshades
4. Decorative and functional trellises
5. Screens and ventilation for machinery
6. Plant filtration
7. Bird or pects proofing
Types of Perforated Steel Mesh
From stainless steel to copper to aluminum plates, perforated metal mesh can be crafted with various strength and corrosion-resistance properties. The perforated mesh itself can also be configured according to customers' specifications. Here are some common types of perforated metal mesh:
Round opening perforated mesh
Square opening perforated mesh is one of the most standard types. The holes of this type of perforated metal mesh are square.
Slotted perforated mesh has slotted holes as opposed to square and can be useful for different screening needs.
Specifications: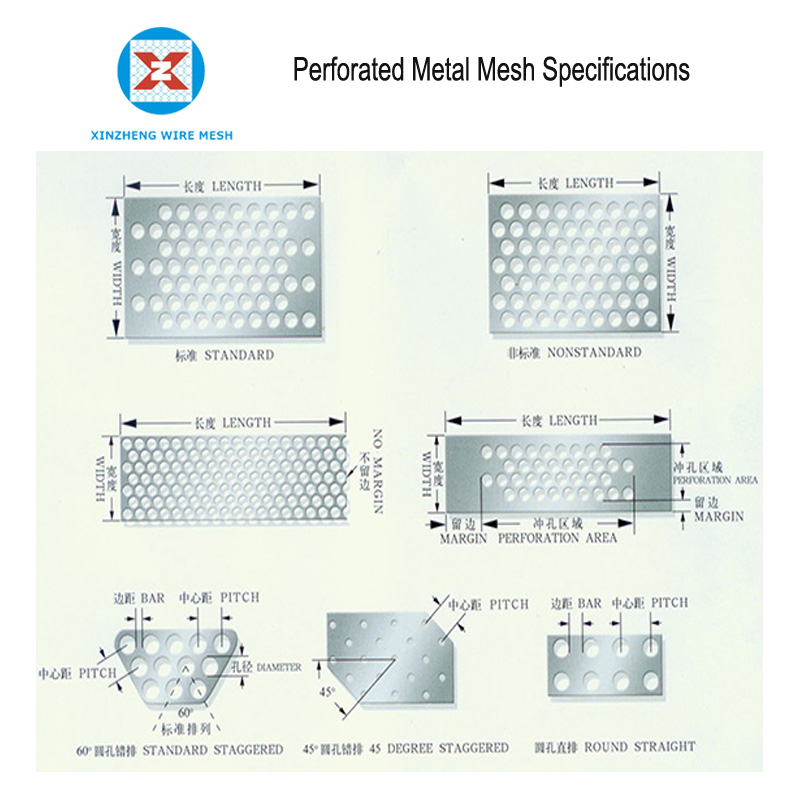 Photos: