Product Description
Expanded Metal Mesh Panel



Expanded metal mesh panel is the industry a variety of metal plate mesh products, also named as expanded metal panel, diamond wire mesh, steel wire mesh, metal expansion net, heavy steel plate mesh, pedal mesh, stainless steel expanded mesh, acoustics meshes, etc. Expanded metal mesh surface treatment contain: Pvc dip molding(plastic spraying, plastic coated), hot-dipped galvanized, electric galvanized, spray paint, powder coated etc. Expanded metal sheet can be different color.
Material: Galvanized plate, hot-dipped galvanized plate
Classification: Small, Mini Expanded Metal and heavy expanded metal mesh. Expanded aluminum mesh, expanded platinum filtration mesh, expanded brass mesh, expanded copper mesh, expanded Stainless Steel Wire Mesh, expanded nickel mesh. Opening in the shape of diamond, hexagonal or special shape.
Use: .Both inside and outside decorative, aerospace, petroleum, chemical industry, metallurgy, medicine, paper making, filtration, breeding, packing, mechanical facilities, protection, handicraft manufacturing, high-grade speaker grille, children's seat, baskets, basket, highway protection, and heavy machinery, boilers, oil mines, locomotives, tonner steamship, work platform, staircase, walkway. Also can be used for construction, highway and bridge as reinforced use.
Specification: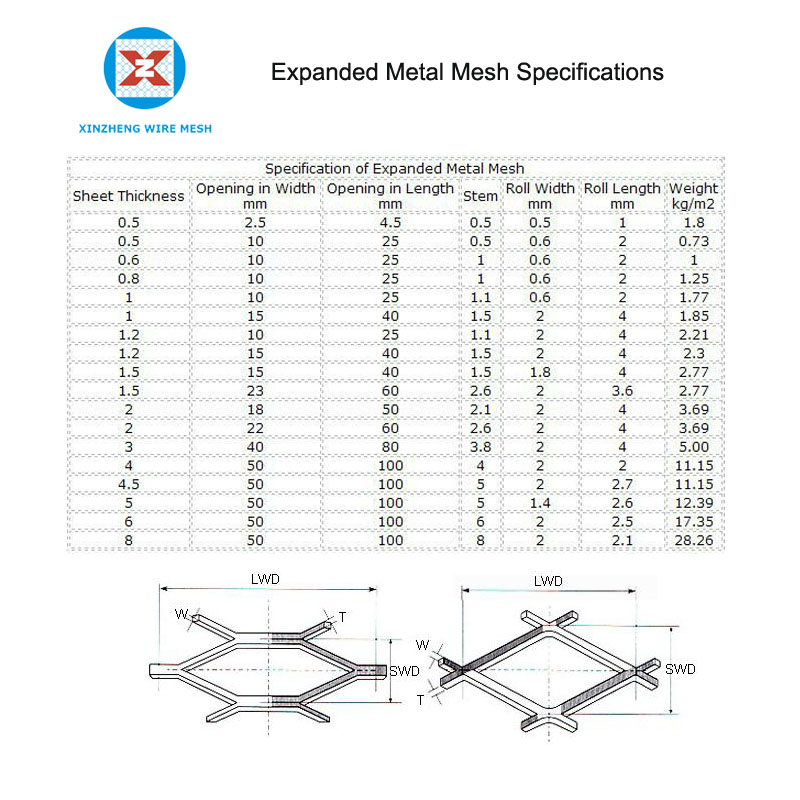 Product Photos: