Product Description
Stainless Steel Plain Weave Wire Mesh
Our stainless steel wire mesh products are varied. And Stainless steel Plain Weave Mesh is the most popular one. The wire cloth is weaved like this: Each weft wire passes over one and under one warp wire, and each warp wire passes over one and under one weft wire, every weft wire have and warp wire the same diameter. The Characteristics of the plain weave is: square opening, high flow through, relative high open area, as result less pressure drop during filtration suitable for all kinds of filtration up to 65µm. We produce steel mesh in all kinds of types. The production process is according to our customers` specification, such as the way of weave, the material, the wire diameter, the size of the mesh, width and length.
Material: Our stainless steel wire mesh products are generally made of stainless steel material 302, 304, 304L, 316, 316L, 321 and 430, etc.
Features: Heat, acid, corrosion resistance, wear resistance. Surface smooth, clean, non-toxic, health, environmental protection.Stainless steel wire mesh offers high filtering efficiency, low pressure loss, constant mesh opening, good dimensional stability, high open surface area and good fireproof property.
Use: Used in mining, petroleum, chemical, food, medicine, machinery manufacturing another industries. Used in conditions of acid, alkali environment for screening and filter, oil industry as mud nets, chemical fiber industry, as a sieve mesh, plating industry as pickling nets. Our factory can design and product various types of products according to users' needs.
Weaving Type Drawing: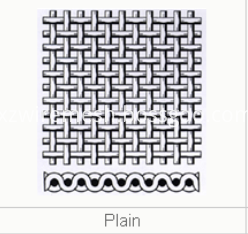 Specifications:
SPEC

WIRE DIAMETER

APERTURE

OPENING

RATE

WEIGHT(POUND)

INCH

MM

INCH

MM

1x1

.080

2.03

.920

23.37

84.6

41.1

2X2

.063

1.60

.437

11.10

76.4

51.2

3X3

.054

1.37

.279

7.09

70.1

56.7

4X4

.063

1.60

.187

4.75

56.0

104.8

4X4

.047

1.19

.203

5.16

65.9

57.6

5X5

.041

1.04

.159

4.04

63.2

54.9

6X6

.035

.89

.132

3.35

62.7

48.1

8X8

.028

.71

.097

2.46

60.2

41.1

10X10

.025

.64

.075

1.91

56.3

41.2

10X10

.020

.51

.080

2.03

64.0

26.1

12X12

.023

.584

.060

1.52

51.8

42.2

12X12

.020

.508

.063

1.60

57.2

31.6

14X14

.023

.584

.048

1.22

45.2

49.8

14X14

.020

.508

.051

1.30

51.0

37.2

16X16

.018

.457

.0445

1.13

50.7

34.5

18X18

.017

.432

.0386

.98

48.3

34.8

20X20

.020

.508

.0300

.76

36.0

55.2

20X20

.016

.406

.0340

.86

46.2

34.4

24X24

.014

.356

.0277

.70

44.2

31.8

30X30

.013

.330

.0203

.52

37.1

34.8

30X30

.012

.305

.0213

.54

40.8

29.4

30X30

.009

.229

.0243

.62

53.1

16.1

35X35

.011

.279

.0176

.45

37.9

29.0

40X40

.010

.254

.0150

.38

36.0

27.6

50X50

.009

.229

.0110

.28

30.3

28.4

50X50

.008

.203

.0120

.31

36.0

22.1

60X60

.0075

.191

.0092

.23

30.5

23.7

60X60

.007

.178

.0097

.25

33.9

20.4

70X70

.0065

.165

.0078

.20

29.8

20.8

80X80

.0065

.165

.0060

.15

23.0

23.2

80X80

.0055

.140

.0070

.18

31.4

16.9

90X90

.005

.127

.0061

.16

30.1

15.8

100X100

.0045

.114

.0055

.14

30.3

14.2

100X100

.004

.102

.0060

.15

36.0

11.0

100X100

.0035

.089

.0065

.17

42.3

8.3

110X110

.0040