Product Description
Stainless Steel Expanded Metal Mesh

Stainless Steel Expanded Metal Mesh, also named Stainless steel diamond metal mesh, stainless steel punching net. Stainless steel expanded mesh a kind of steel mesh product made of stainless steel plate. It has uniform mesh, smooth surface, high friction coefficient and high strength, and it is easy to cut and manufacture. Anping Xinzheng can also supply stainless steel wire mesh, metal filter disc, wire mesh screen, wire baskets, aluminum foil mesh, filter disc, perforated metal mesh, steel mesh, expanded metal mesh, stainless steel twill weave mesh, metal plate mesh products, filter products, other alloy net and so on.
Material: Stainless steel plate in SS 304, 304L, 316, 316L, 310 etc.
Classification: Small, Mini Expanded Metal and heavy expanded metal mesh. Expanded aluminum mesh, expanded platinum filtration mesh, expanded brass mesh, expanded copper mesh, expanded Stainless Steel Wire Mesh, expanded nickel mesh. Opening in the shape of diamond, hexagonal or special shape.
Use: Used with concrete in buildings and construction, maintenance of equipment, making of arts and crafts, covering screen for first class sound case. Also fencing for super highway, studio, highway. Heavy expanded metal can be used as step mesh of oil tanks, working platform, corridor and walking road for heavy model equipment, boiler, petroleum and mine well, automobile vehicles, big ships. Also serve as reinforcing bar in construction, railway and bridges.
Specification: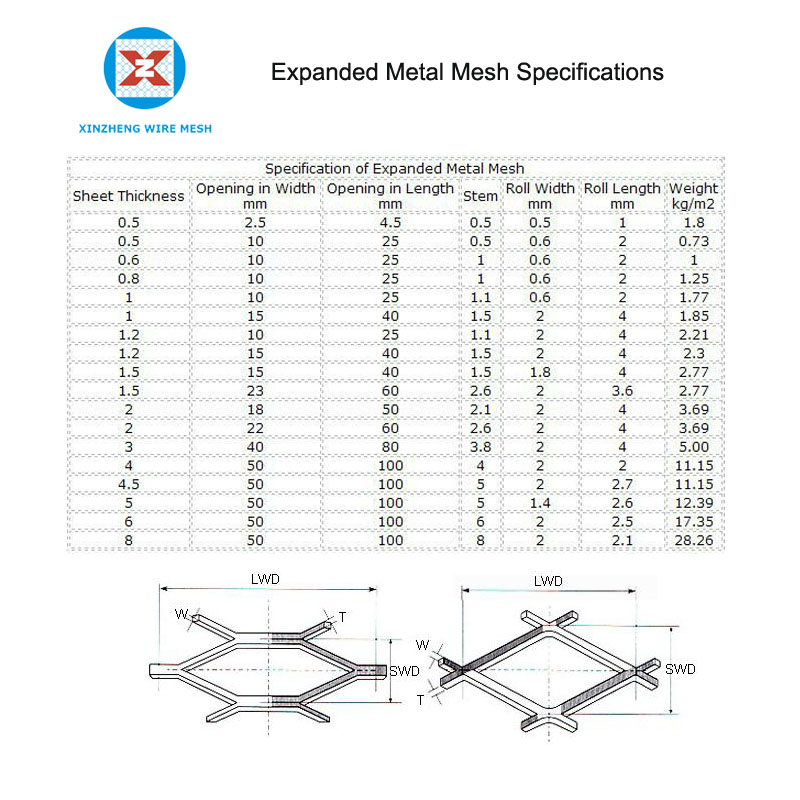 Product Photos: