Product Description
Twill Weave Cloth is a wide variety of knitting methods.
Stainless steel wire cloth can be produced in square mesh or space mesh as a result of different weaving patterns, which can meet the demand of specific application devices. This kind of woven mesh products are formed by interlocking wire to produce a given aperture. Arch offers a range of stainless steel screen from 10 micron to the heavy industrial meshes with big openings. Special weaves for intense filter cloth applications can also be supplied. Twill is a special weave type, and the mesh can have Weave a good-looking patterns.Twill Weave Fabric metal wire baskets wire mesh baskets filter tube stainless steel strainer
Material: 201, 304, 304 (L), 310, 316 (L), etc
Weaving features: Twill weave stainless steel mesh warp and weft threads interwoven from the adjacent strands - weaving in the direction of silk and shuttle.The movement of this upper and lower knitting is the movement of the shuttle.Twill weaving can be used to weave different specifications of mesh.
Features: Features: stainless steel twill weave net is an acid, alkali resistant, high temperature, tensile and wear resistance strong product, has the filtering precision, the load strength high characteristics.
USED: Twill weave stainless steel mesh is widely used in aerospace, petroleum, chemical industry, scientific research and transportation, etc, used in acid, alkali environment conditions screening and filter, oil industry as mud mesh, chemical fiber industry as screen mesh, plating industry as pickling nets.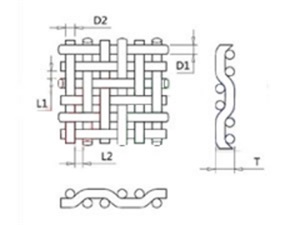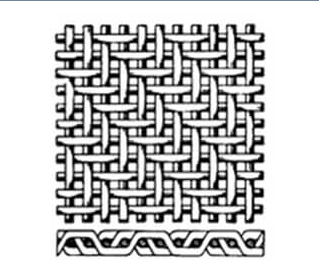 The warp wire (D1) : all longitudinal braided lines.
The weft wire (D2) : all horizontal weaving lines.
Aperture (L1 and L2) : the distance between two meridians or two weft.
Mesh number:number of mesh holes per inch.
Thickness (T) : thickness of the net.
SPEC

WIRE DIAMETER

APERTURE

OPENING

RATE

WEIGHT(POUND)

INCH

MM

INCH

MM

200X200

.0021

.0533

.0029

.0737

33.6

6.2

250X250

.0016

.0406

.0024

.0610

36.0

4.4

270X270

.0016

.0406

.0021

.0533

32.2

4.7

300X300

.0051

.0381

.0018

.0457

29.7

3.04

325X325

.0014

.0356

.0017

.0432

30.0

4.40

400X400

.0010

.0254

.0015

.370

36.0

3.3

500X500

.0010

.0254

.0010

.0254

25.0

3.8

635X635

.0008

.0203

.0008

.0203

25.0

2.63
Photo: