Product Description
Powder Coated Expanded Metal Mesh

Powder Coated Expanded Metal Mesh, as the name suggests, it is to dip a layer of powder on the surface of the steel mesh. This layer of powder is about 0.0.8 millimeters thick, and the color can be dark green, green, red, white and other colors according to customers' need. The appearance of powder coated expanded metal mesh is beautiful and colorful, and it can be well matched with the external environment. The powder coated metal plate metal products not only have the beautiful exterior surface, but also have also has good anti rust and anti ultraviolet properties. We can also provide stainless steel wire mesh, crimped wire mesh, perforated metal mesh, filter products, and other metal mesh products.
Material: steel plate, iron plate, etc
Classification: Small, Mini Expanded Metal and heavy expanded metal mesh. Expanded aluminum mesh, expanded platinum filtration mesh, expanded brass mesh, expanded copper mesh, expanded Stainless Steel Wire Mesh, expanded nickel mesh. Opening in the shape of diamond, hexagonal or special shape.
Use: Used with concrete in buildings and construction, maintenance of equipment, making of arts and crafts, covering screen for first class sound case. Also fencing for super highway, studio, highway. Heavy expanded metal can be used as step mesh of oil tanks, working platform, corridor and walking road for heavy model equipment, boiler, petroleum and mine well, automobile vehicles, big ships. Also serve as reinforcing bar in construction, railway and bridges.
Specification: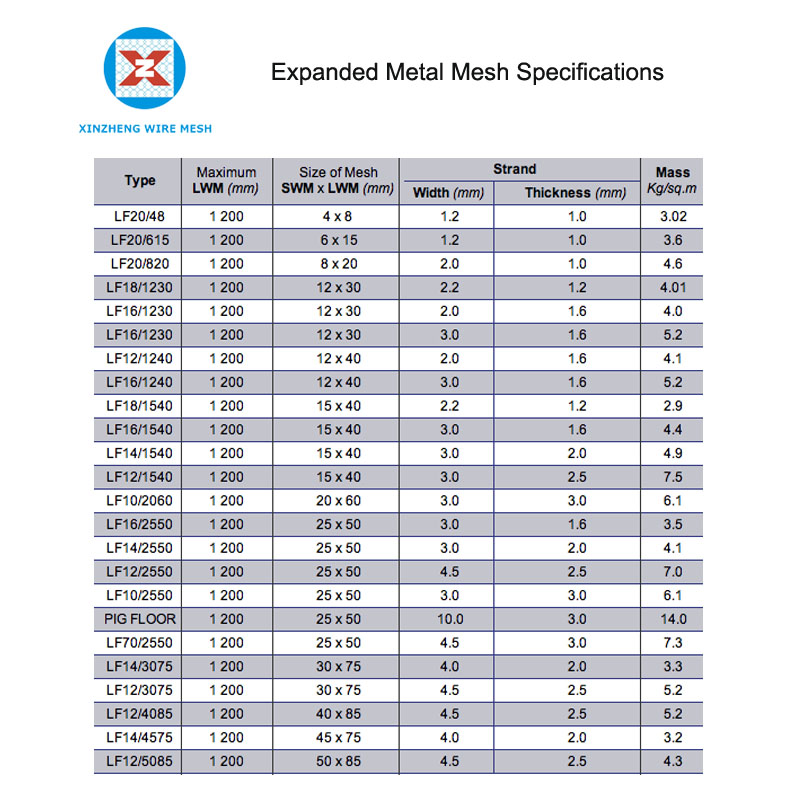 Product Photos: