Product Description
Hexagon Expanded Metal Mesh
Hexagonal expanded metal mesh features hexagonal shaped openings, and as such has larger open rates, usually about 80%. In fact, this expanded metal has the highest open area percentage among all expanded metals, but maintains a high strength-to-weight ratio – the hexagonal pattern offers higher strength than the diamond pattern. The holes are arranged in a staggered pattern so that the midsection of a hole is in line with the top edge of the near hole. This material is often used in architectural load-bearing applications, including facades, fences, roofs, steps, walkways, placards, and many other applications in other fields. We also can produce stainless steel wire mesh, perforated metal mesh, woven mesh products, aluminum foil mesh, barbecue wire mesh, stainless steel crimped wire mesh and more.
Material: Steel plate, stainless steel plate, aluminum alloy plate, brass plate, and more
Surface: flattened (smooth surface) and standard (raised) surface. Raised or standard expanded metal sheet offer a skid-resistant surface and a high strength-to-weight ratio.
Hole patterns: Diamond shapes, hexagonal shapes, diamond and hexagonal mix shapes
Deal of surface: Nature color, colorful PVC coating, epoxy resin
Application:
The

expanded steel mesh

is widely used for civil construction, cement pouring, machinery and equipment protection, high-grade speaker mesh hoods. It can also be used as reinforcement in the construction industry, roads and bridges. Expanded metal mesh can also be used as fence for sports places and road greening belt. Heavy expanded metal mesh can be used for oil tank truck pedal nets, heavy machinery, as well as the working platforms, staircases and walkways of boilers, locomotives, 10,000-ton ships, etc.

Walkway,

stair treads

and platforms

Window guards or grilles

Wall reinforcements

Perimeter fencing or gates

Top-of-wall spikes

Pedestrian safety barriers

Motorway anti-glare screens
Specifications: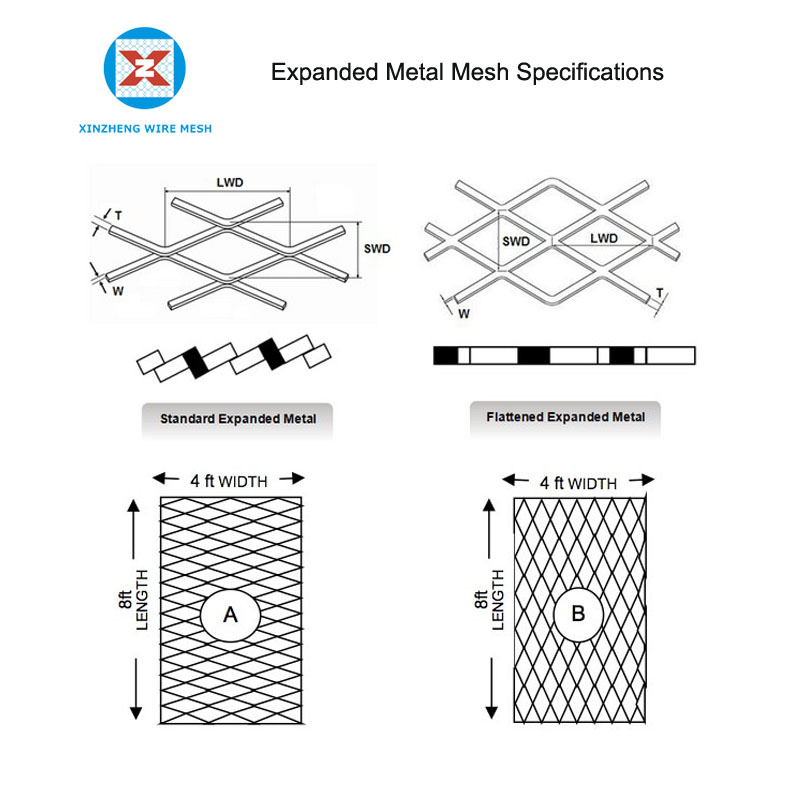 Photos: