Product Description
Weave Wire Cloth
Anping Xinzheng metal Wire mesh company's304 Dutch weave wire cloth products are mainly used in the highly accurate filtering industry. Compared with stainless steel plain weave mesh and stainless steel twill weave mesh, it is more suitable for such applications. Holland woven mesh is quite thick, can achieve relatively high number, so stainless steel 304 wire plain dutch weave mesh belongs to wire mesh products with more excellent quality. Its performance is not achieved by the common woven mesh products and metal plate mesh products.

Material: 201, 304, 304 (L), 310, 316 (L), etc
Weaving features: Twill weave stainless steel mesh warp and weft threads interwoven from the adjacent strands - weaving in the direction of silk and shuttle.The movement of this upper and lower knitting is the movement of the shuttle.Twill weaving can be used to weave different specifications of mesh.
Features: Features: stainless steel twill weave net is an acid, alkali resistant, high temperature, tensile and wear resistance strong product, has the filtering precision, the load strength high characteristics.
USED: Twill weave stainless steel mesh is widely used in aerospace, petroleum, chemical industry, scientific research and transportation, etc, used in acid, alkali environment conditions screening and filter, oil industry as mud mesh, chemical fiber industry as screen mesh, plating industry as pickling nets.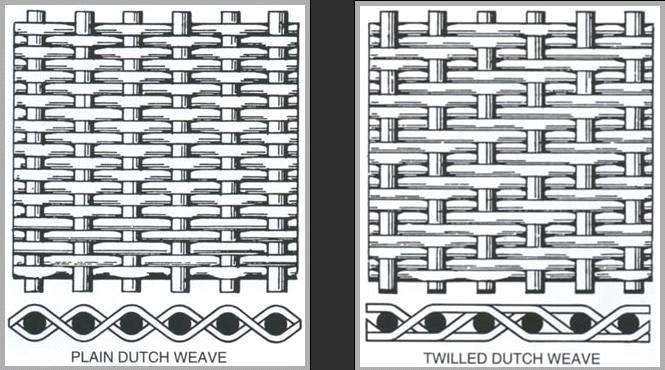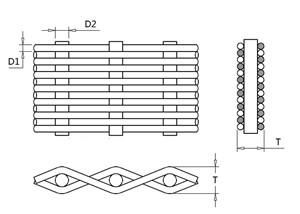 The warp wire (D1) : all longitudinal braided lines.
The weft wire (D2) : all horizontal weaving lines.
Aperture (L1 and L2) : the distance between two meridians or two weft.
Mesh number:number of mesh holes per inch.
Thickness (T) : thickness of the net.
Size List:
| | | |
| --- | --- | --- |
| mesh | wire dia (MM) | Material (AISI) |
| 12 X 64 | 0.58/0.40 | 304 316 |
| 24 X 110 | 0.36/0.25 | 30.316 |
| 14 X88 | 0.50/0.33 | 30.316 |
| 30 X150 | 0.18/0.14 | 30.316 |
| 40 X200 | 0.14/0.11 | 30.316 |
| 50 X250 | 0.10/0.071 | 30.316 |
| 80 X700 | 0.06/0.05 | 30.316 |
| 165 X800 | 0.071/0.040 | 30.316 |
| 165 X1400 | 0.05/0.032 | 30.316 |
| 200 X1800 | 0.05/0.03 | 30.316 |
| 325 X2300 | 0.030/0.025 | 316L |
| 400 X2800 | 0.030/0.02 | 316L |