Product Description
304 Stainless Steel Wire Mesh
Stainless Steel Woven Wire Mesh (2 mesh to 500 mesh) is the key products of our company. With rich and professional experience in wire mesh weaving, we are able to produce best quality standard stainless steel wire mesh products, also those wire mesh with extra big wire gauge, extra small wire gauge, or extra roll width. For example, we can produce stainless steel wire mesh 200 mesh x 200 mesh with wire diameter 0.05 mm x 0.05 mm in Plain Weaving Pattern with very good quality.The roll width of stainless steel mesh we produce can be 2 m or 4 m for wire mesh woven wire big wire gauge; that can be 1.5 m or 1.6 m for small wire gauge.
Wire Materials: SUS 302, 304, 316, 304 L, 316 L.
Typical Weaving Patterns: Plain weave, twill weave, dutch weave.
General Use: Stainless steel wire mesh, with its excellent resistance against acid, alkali, heat and corrosion, find extensive uses in processing of oils, chemicals, food, pharmaceuticals, also sorting and screening of solid, liquid and gas in mine, metallurgy, airspace, machine making, etc.
Specifications: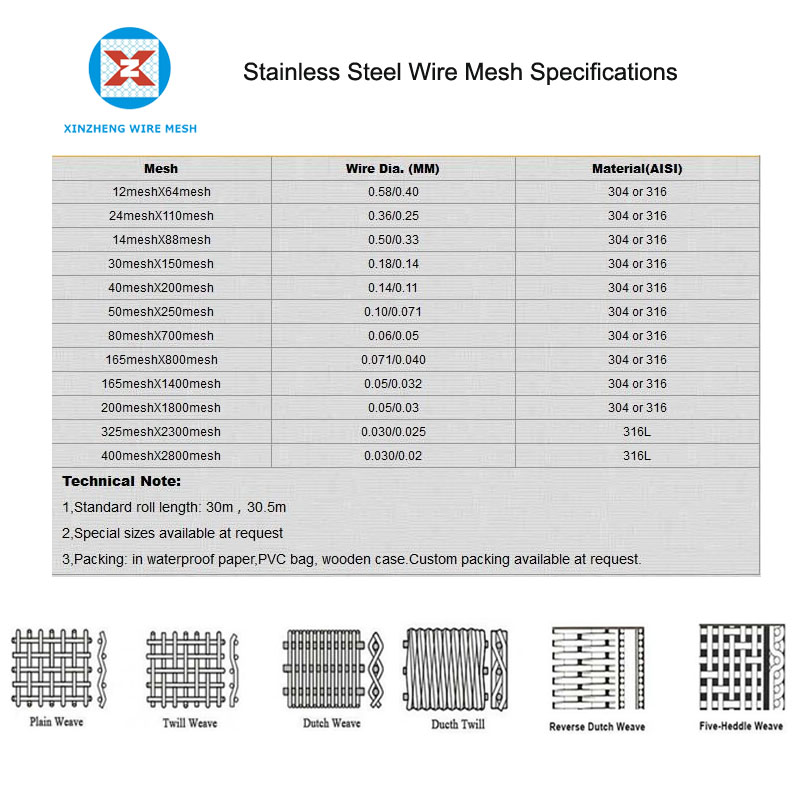 Photos: