Product Description
Stainless Steel Twill Woven Mesh
Compared with the plain weave stainless steel wire mesh, the mesh density is larger than the plain weave, the filtering performance is better than plain weave, and stainless steel twill weave mesh strength is bigger than the plain weave, and the abrasion resistance is much better. We have advanced equipment and excellent, experienced production personnel, so our products are more professional, quality is accepted by all countries and customers like. Anping Xinzheng Company can also provide stainless steel wire mesh, crimped wire mesh, expanded steel diamond mesh, perforated metal mesh, filter disc, aluminum foil mesh and other metal mesh products.
Material: High grade stainless steel wire of 304 304L 316 316L.
Property: Acid resisting, alkali resisting, heat resisting, durable

Weave type: Plain weave, twill weave, Dutch weave, five heddletwilled Weave , herringbone twilledweave

Use: Sifting and filtering in acid and alkali conditions. Slurry net in petroleum, sifting and screening mesh in chemical and chemical fiber industry, acid washing mesh in electric plating industry.
Specificaiton List:
SPEC

WIRE DIAMETER

APERTURE

OPENING

RATE

WEIGHT(POUND)

INCH

MM

INCH

MM

200X200

.0021

.0533

.0029

.0737

33.6

6.2

250X250

.0016

.0406

.0024

.0610

36.0

4.4

270X270

.0016

.0406

.0021

.0533

32.2

4.7

300X300

.0051

.0381

.0018

.0457

29.7

3.04

325X325

.0014

.0356

.0017

.0432

30.0

4.40

400X400

.0010

.0254

.0015

.370

36.0

3.3

500X500

.0010

.0254

.0010

.0254

25.0

3.8

635X635

.0008

.0203

.0008

.0203

25.0

2.63
Structure diagram: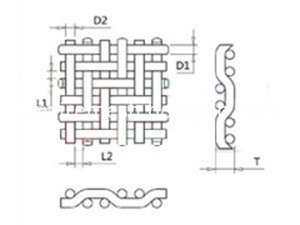 Products Photos: